If you like to prepare pasta, this is the first course for you!
MAKE THIS RECIPE WITH:

LE NATURELLE YELLOW EGG PASTA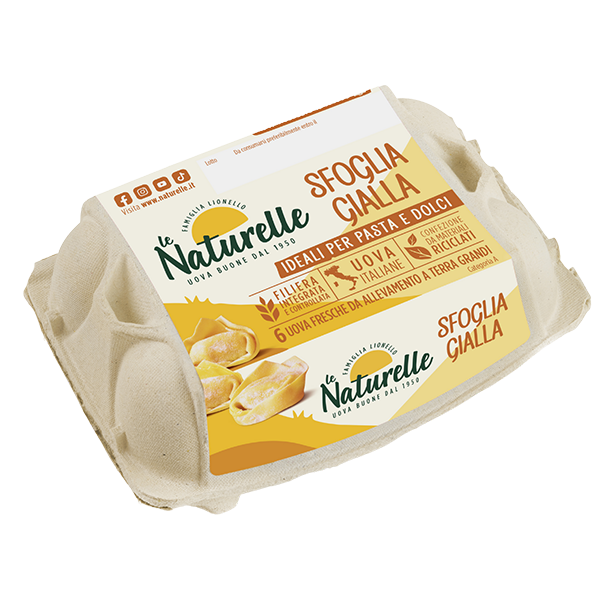 INGREDIENTS
2

eggs le Naturelle Yellow Egg Pasta

extra virgin olive oil to taste

200

g

"00" flour

200

g

ricotta cheese

marjoram to taste

walnut kernels to taste

butter to taste

30

g

parmigiano reggiano

30

g

grated parmigiano reggiano

2

tablespoons fresh cream

2

slices garlic

salt and pepper to taste
METHOD
Make a well in the centre of the flour, break the eggs in the center and add 1 tablespoon of oil. Mix with a fork, then knead vigorously with your hands. Wrap the dough in plastic wrap and let it rest for 30 minutes

Clean the artichokes by removing the hardest leaves and the hairy inner part. Cut them into slices and immerse them in cold water. Heat 2 tablespoons of oil, add the rinsed artichokes and let them flavour. Salt, pepper and cover with half a glass of water.

Cook covered until the artichokes are soft. Let them cool and blend, then pass the creamy mixture through the sieve. Pour it into a bowl with ricotta cheese, grated Parmesan cheese and chopped marjoram. Let it cool in the refrigerator.

Pull the pasta into thin sheets. Arrange the filling on the lower part of each strip, then fold the upper edge over the stuffing so it remains enclosed. Press well between a heap of filling and the other to seal and let the air out.

Use a 6-7 cm diameter ring cutter to form the tortelli. Place them on a floured paper tray. Once ready, cook them in lightly boiling salted water.

Blend the walnuts with 30 g of parmesan cheese, garlic, 40 g of oil, cream and a pinch of salt. Drain the tortelli and pour them into a bowl alternating with the walnut sauce. Serve decorating as desired with marjoram and butter flakes.