Today, with our sweet ingredients we offer you a great classic that never goes out of fashion: vanilla soufflé!
MAKE THIS RECIPE WITH:

Le naturelle EGG YOLK IN 250G BOTTLE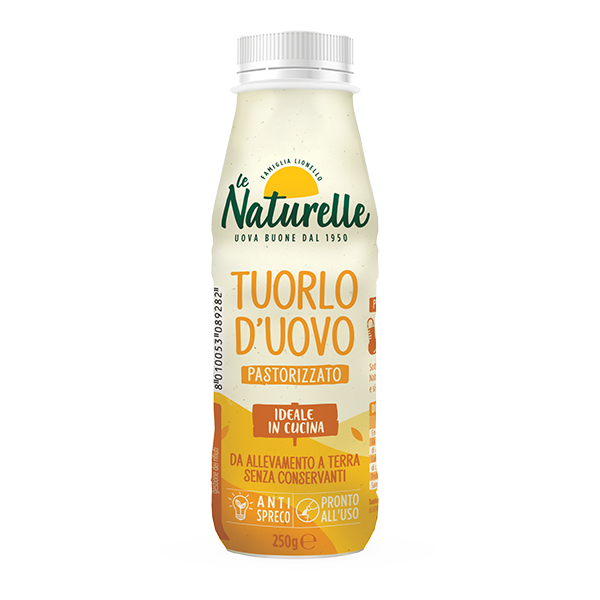 WHAT YOU NEED
4 x Souffle Moulds

1 small saucepan
INGREDIENTS
For the soufflés:
55

g

Egg Yolk in 250 gbottle

100

g

Organic egg white in 250g bottle

150

g

milk

35

g

granulated sugar

1

vanilla pod

60

g

white flour "00"

50

g

butter
Forthe Grand Marnier cream
55

g

Egg Yolk in 250 g bottle

250

g

fresh cream

40

g

granulated sugar

30

g

Grand Marnier
METHOD
For the soufflés:
Melt the butter in a saucepan, then add the flour. Work a little with a wooden spoon until you get a homogeneous polenta-like mix. Bring the milk to a boil, pour it over the polenta-like mix and continue to stir well until you get a fluid and full-bodied dough. Remove from the heat and pour into a bowl. Add the seeds extracted from the vanilla pod and the egg yolks, and incorporate them well. Whip the egg whites with the sugar and mix them gently with the previously prepared polenta-like mix.

Grease 4 soufflé moulds (porcelain or aluminium with a high edge) with a brush. Sprinkle with granulated sugar covering both the bottom and the walls. Pour the prepared mixture into the moulds, filling them up to 4/5. Place the moulds in a pan and bake in the oven at 200°C for about 15 minutes. Before serving, sprinkle the soufflés with icing sugar.
For the GrandMarnier cream
Whip the egg yolks with the sugar with a whisk. In a saucepan bring the cream to a boil. Pour the hot cream over the previously obtained zabaglione. Put everything back in the saucepan and cook on the hob up to 82°C (the cream must make thin film on the spoon, that is, when pulling the spoon up and tracing a line over the cream with your fingertip, the line must remain visible). Pour in the Grand Marnier and let it rest in the fridge. Serve the soufflés with the cream.